Performing arts
Part C : An arts event
Date : November 10th, 2022
Venue : Gillian Lynne Theatre
event : Musical performance of Narnia
We went up to London as the girl's group to take part in a workshop related to the show, and then to see the performance. The trip was organised through Mousetrap Theatre projects.
The workshop was in the headquarters. We played a game about the different seasons, then they talked about the story of the musical and how it has been put together for this performance including the puppet actors. To make the lion and the wolves the costume, actor, make up and puppet parts are combined to make it work.
The actor and puppet worked together.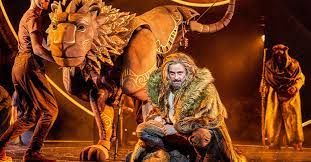 They explained how this idea came about.
We also did a drama exercise about the snow world, and my group used the snowball props to make a wintery mini set. It was quite fun, but I wasn't really sure about what I was supposed to do.
The performance
It was really good and interesting right from the start. The way they made it on the stage really kept you interested. One of the most awesome moments was when the witch was dominating everyone and grew to fill the whole stage with a lifting harness and her costume extended.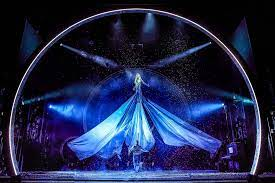 I was surprised at first because the family of children in this show were black actors, which didn't matter but was different from the film. But when I saw them acting I could see that they were just really good and fitted the parts so it didn't matter because they were good to play those characters. It was about casting the actors who would fit best into the production.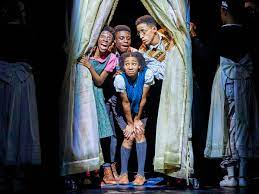 One of the big changes were that all of the Narnia animals played instruments which really worked and made it seem like a festival. The use of the stage was amazing, like they had a lit up circle which was up high, and it was very dramatic when the wolf appeared there.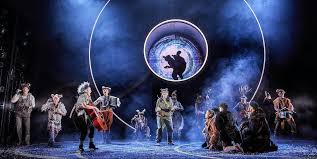 The other bit I really remember was the way that the set changed from one place to another and the way that the people working on the set did it through dancing. For example when they go on the train, it was done with a train puppet lit up but they danced with it for it to look like travelling.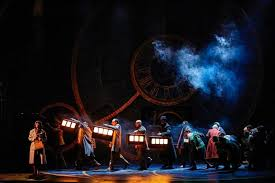 Overall it was a really amazing and inspiring show. I would really recommend going to a London show because it could be really amazing and inspiring like this one. You never know what it will be like, but the live show is much more exciting than watching it on the TV or a screen. You get really involved with the story.