Curriculum
TRANSITION HUB LEADER (KS3)
VOCATIONAL HUB LEADER (KS4) SARAH GRIFFEY griffeys@rowhill.kent.sch.uk
Tel; 01474 705377
Cohort
There are currently 14 class/provision bases, each with their designated cohort. However, there is overlap and flexibility. This ensures that the students are placed in the environment which best suits their needs and required outcomes. Broadly there are 3 cohorts as defined in the admission matrix;
Primary students who have average or above cognitive ability allied to SEMH or ASD who display challenging behaviour.
Primary and secondary students with below average ability allied to a range of needs such as SEMH, ASD, FAS and again display challenging behaviour
Students who have complex co-morbid needs and find it difficult to manage within the normal classroom environment.
These 3 cohorts will then be placed in the provision that best meets their needs and behaviours allowing all students to access and engage in learning without impacting on others.
A suite of primary aged classes designed to meet the needs of those with SEMH/ASD, but differentiated by learning difficulty and or social/ mental health needs.
A suite of primary aged classes designed to meet the needs of those with co-morbid SEMH/ASD but with higher cognitive levels.
A suite of transition classes differentiated by co-morbid needs / maturity levels which would be provided through primary type classes, nurture and extended curriculum opportunities.
A suite of Key Stage 4 classes (Yrs 9-11) which has accreditation opportunities in the core skills (Maths, English, Science and ICT) as well as a range of vocational opportunities both on and off-site to meet the whole range of needs differentiated by need type and learning ability.
An alternative curriculum provision to meet the needs who are in need of more personalised off-site provision.
purpose of provision
Each class will have a designated purpose but overall the following process will hold all classes to account. Fundamentally, the main objective is to ensure that each student has access to a personalised plan and environment which allows them to interact, make choices and decisions to enable them to work together alongside others, including in the wider community. This is the fundamental component of all students learning and will help achieve greater access to a range of environments and contexts. Sensory environments will be important for all to feel comfortable to participate in learning. Therapy programmes will be designed for students where they present with needs in this area.
We give a "voice" to all students, so they can be involved and shape their provision. We achieve this by consulting with them on a daily basis, with the guidance from individual communication passports, sensory based activities, specific interventions and strategies so they can express their likes and dislikes, what support they need to achieve success as well as removal of barriers to learning and progress. All students and their parents therefore need to be constantly involved in planning their targets and learning goals and how they can take control of their learning.
We aim to constantly develop the ICT Capacity across the school which will encourage multimedia learning and the use of personal hardware to improve learning outcomes.
Students develop a sense of higher self-esteem, by being involved in decisions during their daily routines. They demonstrate less anxiety by learning to understand and adapt to their environment.
The development of functional skills, social skills, employability skills and core skills are essential for all students to become as independent as possible. For some this may be functional core skill accreditation, for others it will be having the ability to make a choice and participate positively in a range of contexts. The enrichment provision is crucial to providing new experiences, experiential learning, work related learning, voluntary work and inspiring new activities that allow students to succeed and progress in new areas. Once again, this is dependent on their needs, accessibility, risk assessment and staff skills, but should be considered to improve their life and social skills, their ability to interact in different environments and contexts, build self-confidence and esteem to support their health and well-being.
Finally, the ethos and culture that Rowhill provides should form a background of support, challenge, integration, opportunity and trust, based around various community interventions. This will help support student growth in spiritual, moral, social and cultural development and work towards progress against the stated mission statements.
outcomes
These will be varied and all link into the students' age and outcomes within their EHCP's, together with the need to highlight the important spiritual, moral, social and cultural values associated with the wider community. However, generally the outcomes should highlight their improved ability to socialise, communicate and make positive contributions in different contexts, hence becoming more independent and successful. Outcomes should link to EHCP targets, the stated aims of the provision for each class as well as the improvement of individual's progress in core subject's year on year as well as national accreditation at the appropriate level.
The school has strong links with other agencies and works within a multi-agency approach to support pupils and their families.
TRANSITION HUB LEADER(KS3) ELAINE MENDELSON mendelsone@rowhill.kent.sch.uk
VOCATIONAL HUB LREADER (KS4) SARAH GRIFFEY griffeys@rowhill.kent.sch.uk
Tel; 01474 705377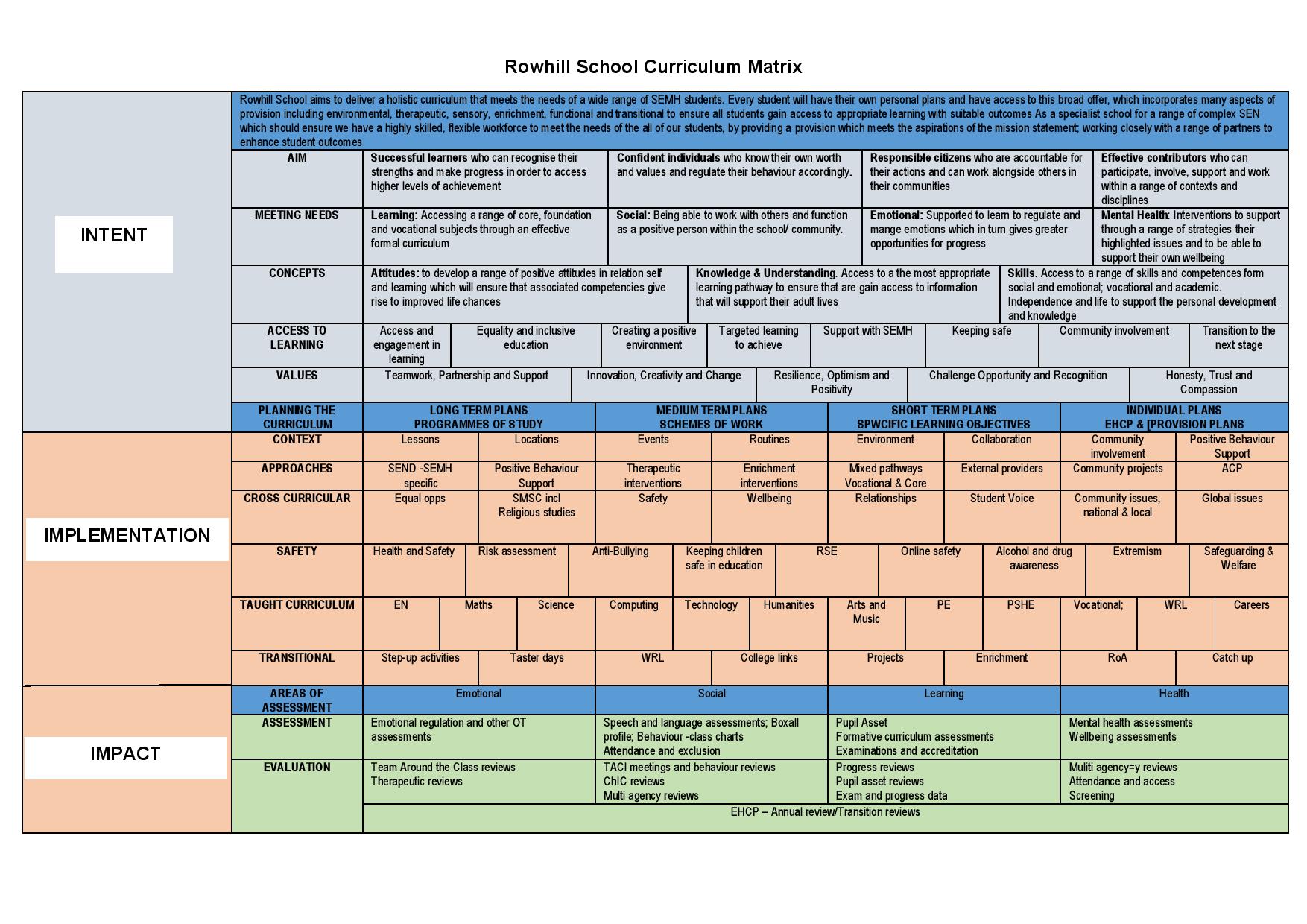 Please click this link to access the Rowhill School Curriculum Matrix