​​​​​​​Kent Youth County Council Elections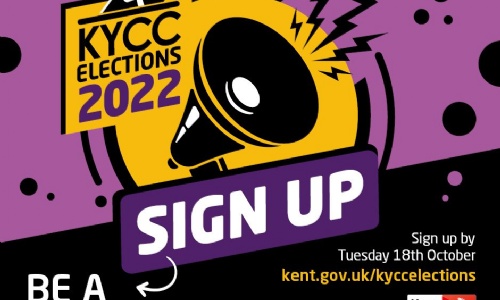 Do you know a young person who is passionate to make a difference? Or maybe someone who would really benefit from getting involved & making new friends?
We are currently recruiting candidates for the elections. Any young person aged 11 – 18 years who lives or goes to school or college in Kent can sign up to get involved. Young people will have 2 options to select from, they can sign up as either a District Candidate or a Community Seat Candidate.
District Candidate – these are the elections held within schools & youth organisations via paper ballot and online election. 4 Member and 4 Deputy members will be elected to represent each of Kent's 12 Districts. These are the main elections and when you sign up to hold the elections you will be sent the ballot papers for the relevant district.
Community Seat Candidate – these elections are held within youth groups specific to the community group and via an online vote. Young people should belong to the community they would like to represent. Community Seats include disabled young people, LGBT+ young people, young carers, young people in care, BME young people to name just a few. 1 Member and 1 Deputy Member will be elected to each Community Seat.
Young people are provided with lots of training and support within their role as a KYCC member so no experience is needed, just a willingness to come along and get involved! Candidate registration closes at midday on Tuesday 18th October. Registration forms can be found at www.kent.gov.uk/kyccelections
KYCC Members also have the opportunity to represent Kent nationally through UK Youth Parliament, each year we elect 7 Members of Youth Parliament who have the opportunity to take part in a range of national conferences including debating in the House of Commons!